Picking apart and examining these pedestrian zones of focus, this piece expresses the foundational ideas to the project. The sectional physiology of the pedestrian, this urge for urban pedestrian prioritisation that is more thoughtfully considered, the coded textural subtleties that lie within these pedestrian zones and conversationally bilingual space that aims to be more diversely legible.
Intrigued by this idea of bilingual spatial communication, this piece explores some of the coded urban floor textures that are commonly met on the commute and how we can again, speak to the inhabitant on a more subtly intimate level.
Textural Drawing Extrusion
Wanting to present the project ideas through typical architectural drawing, with a twist, this piece is an expressive interpretation of the floor textures that can be found in the city. Throughout the year-long duration of the MA, after a writing task in the first few weeks of the course, I became increasingly interested in what emotive writing alongside a piece of work can do. To provide context but to also elevate the viewers reading of the piece, the drawing is accompanied with a small extract of emotive writing. 
Body Speaking Wall Models
With two key architectural elements chosen as a focus to spark this spatial conversation - the wall and the horizontal surface - I designed these 'body speaking walls'. After meticulous tests, research and iterations, these two forms were chosen. Intended to be implemented in the transition zones on the site, and with directionality considered, one was designed for 'to work' and the other for 'coming home'. Cut into large plywood sheets, each wall design was handmade into these scaled physical models. Layering and glueing piece by piece, with intricate internal engineering using dowels, a segment of each wall form was crafted.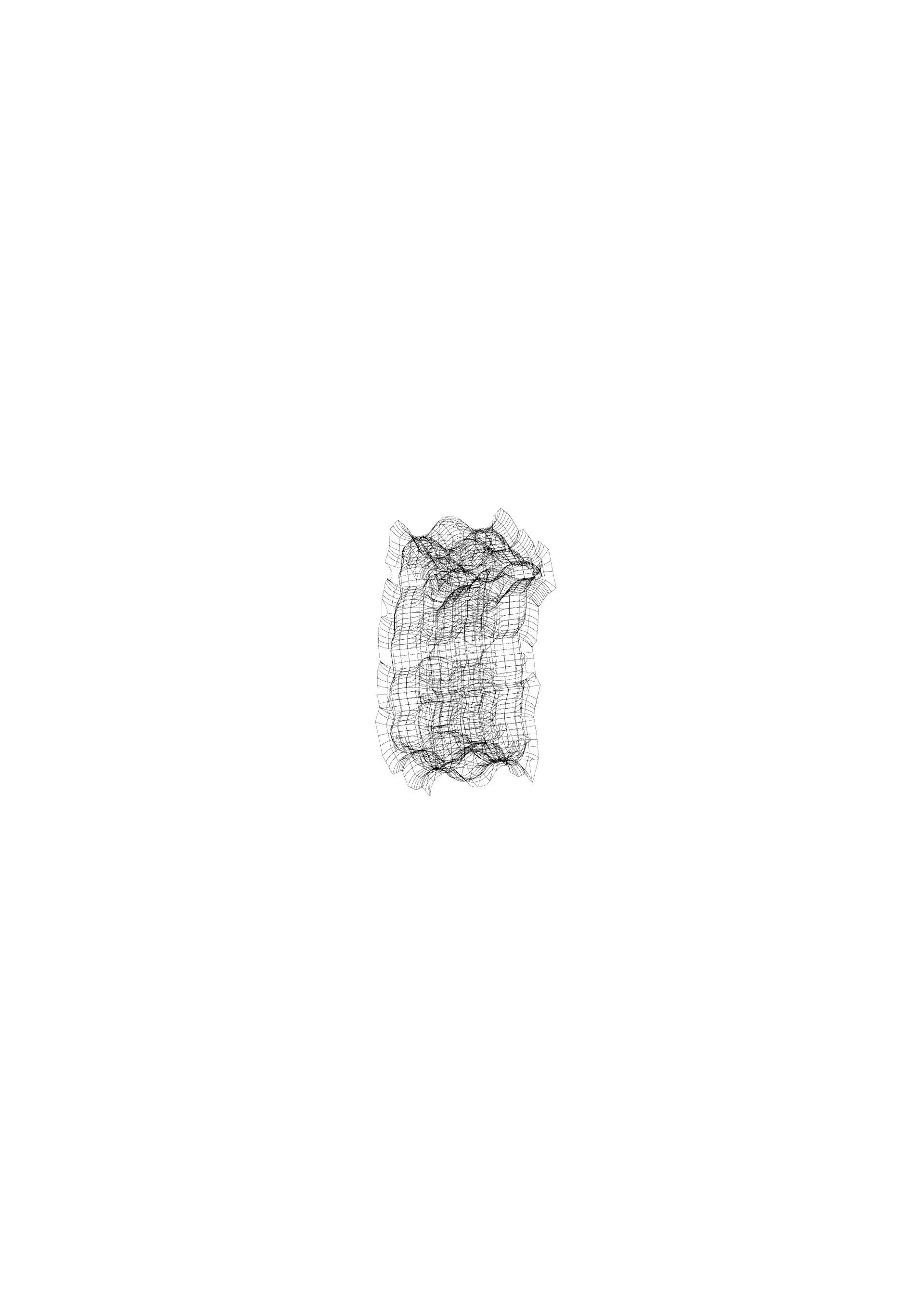 Again taking a 'traditional' architectural drawing method, sections, but this time using the human lens, I inspected the designed 'body speaking walls' in               relation to the whole and specific parts of the human body. As it performatively passes by in its pedestrian stride, interacts with the architectural element                on a daily basis, could we imagine this intricately woven and deepened spatial interrelation between the person and the architectural entity/wall? 
The Architectural Braille Handbook
This handmade book is a complimentary tactile guide to the redesigned exterior pedestrian space on the site, Waterloo Station. Digitally modelled using ones own bodily imprints, the horizontal surface is wrinkled and subtly undulated to awaken a more unique mode of pedestrian motion. Embossing the paper with a 3D printed model of the terrain space + hand punching Braille text, this accessible guide was created.
To further explore the physiology and motional form of the pedestrian, this film was created. Projected onto the hand crafted wooden wall models, this moving image piece further explored the relationship between the inhabitant and the form of these designed 'speaking walls'.